---
---



| | |
| --- | --- |
| | click image |




| | |
| --- | --- |
| | click image |

Arnold Schnitzer, New York. 2013, #33. 7/8 modified Testore (orchestral) model. Flat back and ribs of 40 year old quilted Big Leaf maple; Top of Engelmann spruce; German maple scroll (pre-carved).
41 1/4" (104.8 cm.) string length. $SOLD.


---



Arnold Schnitzer,

New York. 2012, #29. 7/8 modified Montagnana model; *Round back and ribs of Genuine mahogany; Top of curly Pacific Redwood; Maple neck; Massaranduba C-extension and nut.

41 5/8" (105.7 cm.) string length. $SOLD.

---





Arnold E. Schnitzer, New York. 2013, # 34. 3/4 roundback Testore derived. 1 piece back of walnut, walnut sides, Sitka spruce top, maple neck. 41 1/8" (104.5 cm.) string length. $SOLD.


"Hands down the best modern bass I have ever played. It plays like a dream, sounds super-clean, has really quick response, and just looks amazing."
Staff Sergeant Philip Helm of the USMA West Point Band

This bass, a modified Montagnana-style 7/8, won a Silver Medal for Tone at the 2012 Violin Society of America maker's competition. The Silver Medal is the highest award a maker can receive for tone.

---

This bass was made in 2003 for Louis Pappas, who plays for the United States Army at West Point as well as several local orchestas and combos.

The back and ribs are made of highly figured quilted bigleaf maple, which was salvaged from a cabinet shop in Washington State. The seller informed me that the wood was at least 25 years old at the time I purchased it (about 5 years ago). This wood is extremely difficult to work with. When I showed the bass to my colleague, Barrie Kolstein, at the recent ISB conference in Richmond, he shook his head and told me, "You are a masochist!"

The top is made of three pieces of Sitka spruce I acquired from my friend and mentor, Lou Di Leone. The wood was cut in the 1930's for his father, Frank, who did not use it because one of the two original planks was too thin. My solution was to cut the thinner plank in half, and attach these pieces to the outsides of the thicker plank. This allowed me to carve a normal arch into the top.

The neck is bigleaf maple of a less-figured variety than the back and ribs. I felt that too much figure in the neck wood might make the bass look like a person wearing a plaid shirt and paisley tie (my favorite mode of dress!).

With the old wood, this bass delivers thunderous bottom. The old Sitka top gives it a dark but woody sound that does not thin out in the upper register. But please don't ask; I have no desire to work with this maple again in the foreseeable future!

---

While I adhere fairly religiously to the Italian masters' building techniques, there are a few unique touches in my basses: Graphite reinforced neck, for enhanced stabilty; specially carved and braced back, which increases volume and depth; scroll carved from the get-go with a C-extension in mind. I build slowly, which allows the properly-aged wood to stabilize, and prevents tension from being built in to the instrument.

All my basses are oil-varnished the old-fashioned way, with a brush, adequate dry-time between coats, and a laborious rub-down to a rich semi-gloss patina. I do not use spirit varnish, shellac or lacquer on my carved instruments, as they can have a negative impact on tone. There is no substitute for time in the building and finishing process.

I also build a slightly scaled-down version of the bass pictured above. This instrument is 3/4 size with narrower shoulders and a shorter lower bout. These changes were made to accommodate a bassist more involved in solo playing, and who sought an instrument with a more direct sound when played in orchestra section. Both styles can be built with either flat or round back.


---

I am very happy with my new bass made by Arnold Schnitzer. The tone is beautiful, and it is clear, loud and even throughout all registers. The craftsmanship is impeccable, and it is very easy to play.
Thanks Arnold!


Leigh Mesh
Associate Principal Bass
Metropolitan Opera Orchestra

---

(Click for larger view.)
Bass #19 by Arnold E. Schnitzer, 2008. Back and ribs of Oregon Black Walnut; Sitka spruce top; Sugar Maple neck; 5 string with low B; 41 3/4" string length (105.7 cm). I redesigned my "Modified Testore" orchestral model, widening the upper block and shoulders slightly, and making the corners protrude less. The top has a slightly higher arch and the neck overstand is increased, allowing for comfortable bowing on all five strings. This bass has been sold.
---
Pictured above is the Ergonomic Contrabass IV. This bass received an Honorable Mention for convention favorite at the 2009 ISB convention. Amongst the players who were complimentary toward it were Mark Dresser, Jeff Bradetich, Linda McKnight, Mark Helias, Carlos Henriquez and Tim Cobb.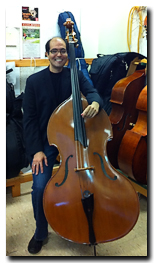 "For a musician, one of the most important things is to find an instrument that plays and feels like it's a part of them — becomes their voice. Arnold Schnitzer's Ergonomic Bass #4 is what I have been searching for throughout my musical career. It's fantastic customizable tone combined with ease of playing and super fast response all while being one of the most well built instruments I have ever seen makes it ideal. His eye for detail and his strive for absolute perfection is astounding to say the least. I have finally found my voice, thank you Arnold!"
Kurt Muroki
Chamber Music Society of Lincoln Center
Faculty, Julliard Pre-College
Bass Professor, SUNY at Stony Brook

---

Ergonomic Contrabass III is pictured directly below and is no longer available.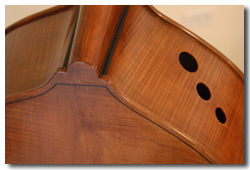 ---
Ergonomic Contrabass II— Won two awards at the International Society of Bassists 2005 Makers' Competition:
Certificiate of Tone
Honorable Mention, Convention Favorite
Conceived as a combination orchestral/solo instrument, it is asymmetrical as a matter of form following function. The upper bout is wide enough to allow for a deep, puchy tone, yet the reduced treble side shoulder provides outstanding access to the upper register. The lower bout of the treble side was enlarged by the same amount as the reduction in the upper bout in order to maintain tonal balance between the treble and bass halves. The back slopes gently up to a thin neck block, allowing the player to nestle closely to the bass, keeping the bow arm in a naturally relaxed position. Along with ergonomic developments, the bass features unique back bracing, top arching and bass bar, all designed to reduce seasonal fluctuations and improve tone.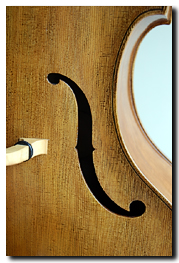 The f-holes are an aggregate of violin-family and plectrum guitar designs. The shape of the body was conceived to be corner-less; the upper corners are a concession to practicality. [The string length is 41" (104 cm) and the bass could be considered a long 3/4 size.] Made of curly maple, with an Engelmann spruce top.
Ergo II is currently owned by Nathan Vedal and is no longer available.
---
Models available for commission include Montagnana-style (7/8 and 3/4), Testore copy (large 3/4) and the unique "Ergonomic Contrabass".
---
Handmade basses by Arnold E. Schnitzer are currently in use in the following orchestras:
American Symphony
Chamber Music Society of Lincoln Center
NY City Ballet
NY Metropolitan Opera
NY Pops
Nashville Symphony
Charleston Symphony
Albany, NY Symphony
Buffalo Symphony
Stamford, CT Symphony
US Army, West Point
Florida West Coast Symphony
In addition, you can hear bass #1 on The Little Bill Show, a cable TV cartoon show.
© 2017 Arnold Schnitzer. All rights reserved